Structural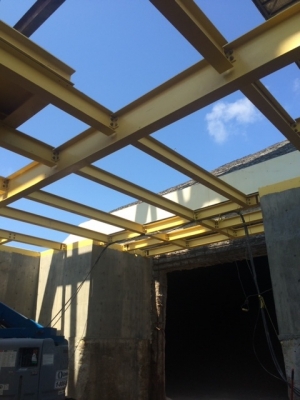 Pryme Iron erects all types of structural steel and excels at erecting more challenging and unique structures. Our experience shines through in this phase of our operations. Our Union iron workers are fully trained and certified in all aspects of steel erection including signaling and rigging. Also, we realize that this phase of the project is almost always "critical path" and requires a careful and complete pre-planning process. We understand that and you can be rest assured that all the critical components involved in this process are carefully examined including items such as site logistics, cranes, durations and most importantly how that can be done efficiently and most importantly safely.
We take great pride in the fact that our crews are not only able to install the structural steel and decking components of a project but also can do a meticulous job on the installation of any steel stairs, railings and miscellaneous metals included in the project. Rest assured that we have experience in a variety of metals whether you are installing anything from standard steel pipe to architectural stainless steel, we have the equipment and expertise to produce a finished product that is exactly what our customer is looking for.
Pryme fabricates, and installs structural support steel, equipment support structures, platforms, and stair systems. Pryme can provide stamped drawings for fabrication and erection projects in many different states. Pryme installs structural steel to support large-scale industrial equipment of all kinds, including: crushers, conveyors, and storage tanks. These services enable Pryme to provide its customers with turnkey solutions for their industrial project needs.
---